Watercolor by Billy Farmer
History of the Barrow-Wilson House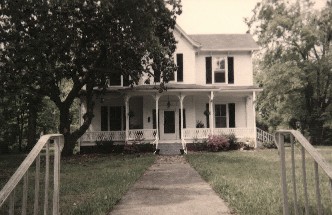 William and Pattie Barrow built the house around 1890. The house stayed in the Barrow family until 1952 when Thomas Wilson, a tobacconist, purchased the home. The main entrance, interior design and finish of the house was altered in 1952 by the Wilson family. The Wilson family kept the house until 2003 when the home was purchased by Janice Dunham. After the purchase, the home had a second renovation.
More on the history of the house, and other historical buildings in the area, can be found in the following books:
| | |
| --- | --- |
| | Mason, Vickie E. (1990). The Historic District of Louisburg, North Carolina: A Catalog and History of Surviving 18th, 19th, and Early 20th Century Structures. Town of Louisburg: Louisburg, North Carolina. |

| | |
| --- | --- |
| | Pearce, T. H. (1988). Early Architecture of Franklin County (Revised Edition). Pine Hill Press: Freeman, South Dakota |
History of the Franklin County & Louisburg
Franklin County was a sparsely colonized area around 1750. The area became a county during the American Revolution in 1779. The county was named after Benjamin Franklin, who was serving as a foreign minister to France at the time. The town of Louisburg was named after King Louis XVI of France, in honor of his alliance with the American Revolution.
Historic Louisburg is nestled along a bend of the Tar River. The rolling terrain is dominated by abundant creeks and granite rock outcroppings.
Learn about Louisburg, NC